Back to all posts
Posted on
Messages from Superintendent and Principal - September 4, 2020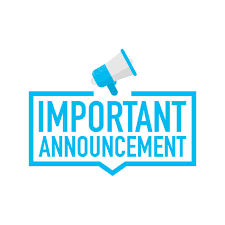 MESSAGE FROM  SUPERINTENDENT 
UPDATE FOR PARENTS    September 4, 2020
This message is an update on developments regarding school opening this past week and some changes to operations.  The first week of school for students in classrooms has gone  smoothly with students, parents and staff adapting to COVID protocols.  The new touchless washroom facilities, cleaning and sanitation protocols, management of students to new routines in classrooms, on the playground, movement throughout the school and drop off/pick up routines are becoming more comfortable each day.  School administration is making changes, as deemed necessary, and will continue to do so as new information and guidance from the province occurs.  Your patience as these changes unfold is appreciated.  All actions are focused on optimizing health and safety of students and staff.
Some details to note:
Although numbers change daily, at the time of this writing approximately 75 students are participating in the home supported virtual school program and approximately 285 students are attending classes or 21%.  All students are assigned to a home room teacher. For those students participating in the at-home learning program, they will be assigned a dedicated online teacher who will be their primary contact.  In the event that there is movement in and out of the out-of-school learning program, students will return to their assigned home room teacher on-site.
The school has sufficient personal protective equipment (including masks, sanitizers, cleaning products, face shields, thermometers).  
We are expecting students and staff to wear masks whenever possible (except in the gym for physical activities, on the playground at recess or when eating) and during any transitions or incidences where physical distancing is not possible.  Students are managing mask wearing very well. 
We have a full staff of dedicated personnel to support our students.  We have not decreased teaching or support staff from pre-covid levels.  
This past week federal funding was directed by the province to individual schools based on student enrollment.  Our school was allocated $130,000.00.
This was welcome news as the funding will be used, in part, to support our out-of-school learning program which is larger than we originally anticipated.  Because of this, we are directing the new funds as follows:
Increase in teachers to support the out-of-school learning program.  Students participating in the out-of-school program will be assigned a dedicated teaching team to implement the out-of-school program.  This change provides added support for the at-home learner.  Details of these changes from Principal Spencer follow this message. 
Purchase of additional computers (Chromebooks) to support the virtual home program.
Increases in custodial services and cleaning products.
As you are aware, no one can predict what will happen in the coming weeks regarding the pandemic and possible changes in school operation, so we encourage families to be patient as we respond to circumstances as they arise.  We may have to increase or decrease support for the out-of-school learning program pending family decisions about school attendance.  If, for example, more students return to classrooms, we may adjust teacher support accordingly.  If an outbreak of COVID prompts more students to participate in out-of-school programming on a short term basis due to isolation conditions we may adjust teacher assignments to best support the program.  Having a dedicated online teaching team in place will permit us to do this with minimal interruption to student programming.
We continue to operate a full academic and music program with adjustments made to abide by safety protocols and to best utilize staff.  
Thank you to all parents for your understanding and support by doing your part in communicating with the school on emergent concerns and ensuring your child is monitored daily for any signs of illness.  The Board and School Administration are working daily to ensure the best education possible for our students despite the many challenges posed by the pandemic.   
Sincerely,
Dr.  Lynne Paradis, Superintendent
MESSAGE FROM PRINCIPAL SPENCER 
ON CHANGES TO OUT-OF-SCHOOL LEARNING PROGRAM
Working in consultation with our senior admin team, admin team, and academic teaching staff, we have restructured our Out-of-School Learning Plan and will monitor and re-evaluate the plan in December 2020 as we discover what works best for students, staff, and families in the days ahead.  
This plan includes three key areas to support student learning:
1. Development of a dedicated online teaching team to provide support for online learners beginning on September 8, 2020 - Led by Assistant Principal, Dale Szalacsi, these online teachers will be planning, implementing, and assessing grade level curriculum objectives, connecting directly with your child, and providing online learning support.  When learning from home, one of these talented teachers will be your child's "homeroom" teacher.  Your child will be withdrawn from their current in-school Google Classroom, and enrolled in the online Google Classroom.  Your parent classroom will remain the same.  If your child switches back to in-class learning, we will make the switch back to the in-class Google Classroom.  Upon return to in-class learning, your child's teacher will be the in-school dedicated teacher.  Teacher assignments have been expanded or adjusted to allow them the time to focus on high quality learning for our at-home learners.  By providing a dedicated online teaching team, in-class teachers can focus their attention on students at school, while online teachers can focus on supporting students working at home during the school day.
At School Teacher

Out-of-School (At Home) Teacher

Kindergarten - Mrs. van Velzen/Mrs. Lietz

Grade 1 - Mrs. Readman/Mrs. Maciborski

K-1 - Mrs. van Velzen

Grade 2 - Mrs. Klassen/Mrs. Grant

Grade 3 - Mr. Szalacsi/Mrs. Lasuik/Mr. Dueck

Gr.2-3 - Mme Kujundzic

Grade 4 - Mrs. Minhas/Ms Eremenko

Grade 5 - Mr. Maharaj/Ms Lyons

Grade 6 - Mrs. Foley/Mrs. Jorgensen

Gr.4-6 - Mrs. Alfano

Grade 7 - Mrs. Kapty

Gr.7 - Mrs. Jorgensen
2. Adjustments to programming for all students - To increase teacher availability for online teaching, programming will be adjusted for all students.  As we are unable to sing at this point in time, the choral program will evolve into an integrated general music theory component to enrich the instrument music group classes and will be available to all students through the instrument music group class in Google Classroom.  French programming will be limited to one class per week with technology based interactive activities to be repeated for mastery and fluency to increase teacher availability for online teaching.  
3. Increased access to technology for students -  We will be purchasing additional Chromebooks to provide replacements for outdated laptops and ipads, and to increase our ability to support at-home learners with needed technology devices.  If your child is currently participating in out-of-school learning and digital access is a barrier for your family, please contact me using the Technology Request Form.  
Take care and stay healthy,
Karen Spencer, Principal