Back to all posts
Posted on
IMPORTANT INFORMATION SUZUKI CHARTER SCHOOL RE-ENTRY PLAN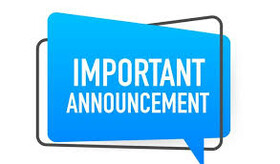 IMPORTANT INFORMATION
SUZUKI CHARTER SCHOOL RE-ENTRY PLAN
REVISED JULY 31, 2020
Recently, the Alberta Government announced that Scenario One (near-normal operations) school re-entry plans would be put into effect in the fall. Given the rise in COVID cases in Alberta, this decision has caused concern from parents and staff. We are sensitive to the reality that some families will not be comfortable sending their children back to school full time in September. Some students may need to remain at home during the pandemic due their own health or that of a loved one. Our school plan addresses this need.
This information package includes:
1) Updated Re-Entry Plan for September
2) Question and Answer Document
REVISIONS TO JUNE SCHOOL RE-ENTRY PLAN
School administration has had ongoing meetings with Alberta Health Services, other Alberta school jurisdictions, workplace technical experts, and Alberta Education that have resulted in changes to our school plan to ensure the health and safety of our school community. As you read through the original re-entry plan you will find revisions based on feedback we have received from health experts, educators, and parents. The upgrades and changes are highlighted and noted in the updated overview at the beginning of the document.
One thing we know for sure is that there will continue to be changes as new information and guidance is made available to us. Once the plan is implemented there will be a system of monitoring and adjustments. Any changes will be communicated to all our school community including our students participating in at-home learning.
CHANGES IN FIRST DAY OF SCHOOL-STAGGERED ENTRY
To ensure a strong start to the year and to prepare students for changes in routines to align with COVID health measures, half the students in each class will attend school for their first day on September 1, and half of the students in each class will attend school for their first day on September 2. Beginning on September 3, all students will attend full days.
First Week Attendance:
● Preschool and Kindergarten teachers will stagger entry for smaller groups of children over the first week. They will contact parents directly with details.
● Gr.1-6 Students with last names A-K will attend on September 1, 3, and 4 - NOT on September 2.
● Gr.1-6 Students with last names L-Z will attend on September 2,3, and 4 - NOT on September 1.
● Gr.7 Students will attend on September 1, 2, 3, and 4.
● Gr.1-7 Students registered in After School Care will begin on September 1.
● Kindergarten Students registered in Kindergarten Child Care will begin on September 9 after students are familiar with new health measures and routines.
BENEFITS OF HAVING YOUR CHILD AT SUZUKI CHARTER SCHOOL
The culture and organization of our school has several characteristics that contribute to managing school instruction during the COVID reality. Parents may find some assurance in being reminded of these. Our school is different from many public schools.
a. Our class sizes range from 16 – 25 students if ALL students are in attendance.
b. Classroom and other facility space is generous. We operate using approximately 70% of our facility which assists staff with encouragement of physical distancing.
c. School decision makers are in daily contact and our system of communication to parents can be swift.
d. Our staff know most of our school families and our students well which assists with planning and communication.
e. We have a consistent faculty, most who have been at the school for years.
f. The Board, Senior and School Administration have and continue to be actively involved all summer with Alberta Education, Alberta Health Services, Alberta College of School Superintendents and the Association of Alberta Charter Schools. These organizations provide current information on COVID developments and provide timely discussion and group problem-solving opportunities on emergent issues for school re-entry.
SUPPORTING FAMILIES WITH AT-HOME LEARNING
We are confident we can work together to accommodate students requiring at-home learning support. We will support families with an at-home learning program while students are at home either due to isolation requirements or other medical concerns. We are confident that we have the infrastructure and staff knowledge to provide students and parents with essential learning resources and guidance until such time that they return to classroom instruction.
The at-home learning program will be facilitated through Google Classroom and supported with school resources (eg. textbooks, devices) available for pick up from the school. We will balance the online portion of the program with other learning activities that are more similar to the experience students in the school will have so that transition back to the classroom is a smooth one. We have built time into our schedules so that teachers can support at-home learners.
Face-to-face learning is almost always better for students academically, socially, and emotionally. We encourage in-person attendance. Whatever your decision, we appreciate your patience as this will be a very fluid and complicated school year; one where just about everything we do is just a little (or a lot) different from what we are used to doing. Our staff cares deeply about your children. We are strongly committed to providing high standards of programming whether on-site or at-home.
RISK MANAGEMENT, PLANNING, MONITORING, AND COMMUNICATION
School administration has been meeting over the summer and will continue to make adjustments based on information we receive from the professional field. In late August we will provide a virtual guided walk through of the school to share with families the changes to facility and classrooms to familiarize you and your child with a glimpse of school operations for opening day. If you have questions about the re-entry plan, please contact Principal Karen Spencer at spencerk@suzukischool.ca.
SCHOOL FACILITY UPGRADES
We are excited to be working with Edmonton Public Schools (owner of our building) on significant improvements to the school facility. We are in early planning stages but improvements will include changes that will make the school more energy efficient, and more modern (including but not limited to improvements in washrooms, roofing, heating and ventilation, and windows). Considerable care has been taken with the general contractor and architects to ensure the health and safety for everyone with focused attention on pandemic protocols. In early fall parents will be provided with information regarding facility upgrades (in early planning stages now). Improvements are underway over the summer and will continue into the fall.
RE-ENTRY PLAN AND Q AND A
Attached is the updated Suzuki Charter School Re-Entry Plan which addresses many details of our operation beginning in September. In addition, please review the attached Question and Answer document where we have addressed many concerns that parents may have.
We are confident that we can continue to provide a quality education for your child despite some unprecedented challenges during the pandemic. It is important that families and the school work collaboratively to move forward strategically and safely.
Nicole Palmer, Board Chairperson
Dr. Lynne Paradis, Superintendent
Karen Spencer, Principal