K-6
Academic Excellence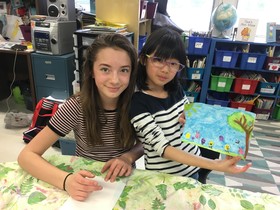 The Role of the Teacher
Teachers are well-trained and provide meaningful and excellent instruction.They set temporal, interpersonal, and physical environments that will allow each child to develop competencies in artistic, literary, mathematical, scientific and social spheres.They care deeply about their students and strive to find interesting ways to present material that will challenge individuals and ensure success for each student. They encourage students and believe that every child can learn.Teachers model the pursuit of continuing advancement and higher achievement. Fostering the desire to learn and emphasizing the joy of learning is the most important role of the teacher.
The Role of the Parent
Just as the parent is the "home teacher" for individual lessons, every child is expected to regularly review academic concepts with the help and support of the parent at home. What this means is that teachers provide daily homework to reinforce and support student learning and parents provide the environment and regular routine to facilitate home practise that reinforces, enriches, and extends the learning experience at school. Some examples include helping children complete assignments, reviewing material, and gaining first-hand experiences to aid understanding and retention of learning through discussion or experiences. The school also welcomes parental involvement in a variety of ways at the invitation of the teacher and under his/her supervision to ensure a safe and caring environment for all students. In addition to parent assistance at home and in the classroom, parents are welcomed to attend Parent School Council or SCS Board meetings.
The Role of the Student
Each student is responsible for helping create a warm, caring environment where all individuals can succeed. Within this supportive environment, each child is respected and celebrated as an individual with unique strengths to build upon, and challenges to master. Students see themselves as individuals who welcome the opportunity to try new experiences, risking potential failure to succeed; they know that if they take one small step at a time, they will accomplish their goals with the support and guidance of their parents, teachers, and peers.
What does the Suzuki environment offer?

Dedicated Alberta certified teachers 
Enhanced and enriched Alberta Curriculum 
Daily repertoire listening
Multi-age group activities
Motivational group instrument instruction on cello, double bass, flute, guitar, piano, trumpet, viola and violin.
Meaningful performance opportunities: ensemble playing, guest musicians, workshops and special events
Aural based choral and theory learning
School-wide integration of music
Technology integration
Low student to teacher ratio
French as a second language from Kindergarten to Grade Six
Extra-curricular activities
A variety of field trips to enrich the curriculum
Cooperative, non-competitive spirit
Quality education, expectations of high standards
Positive role models
A quality music program inspired by the Suzuki philosophy
Suzuki Approach integrated into the academic, music and personal excellence program
Opportunities for parental involvement
Student leadership and character education
After School Care (user fees)
Preschool (user fees)
French Program
The French program is taught through the Accelerated Integrative Method (AIM).  Students are introduced to the vocabulary with gestures. Ideally, they speak with the teacher or independently, throughout the class – which is the key to internalizing the vocabulary.  It is probably the only class your child will have where the teacher requests that he/she speak throughout the class!  The beginning of the program focuses on learning single words, which are then associated with other vocabulary in phrases and sentences.  Once the students have mastered these, they move on to learning new vocabulary within the context of a story, which they eventually dramatize.  This is followed up with written work – questions, fill in the blank activities etc. Everything is presented orally before the written word is introduced.
Vocabulary is continually reinforced through:
 the play
 music written for the play as well as other songs.
 games and activities that are set up to reinforce particular structures.
 conversation in class during group work or discussion sessions.
As the program progresses students eventually learn how to:
 paraphrase a story in their own words.
 do some creative writing in which they may rewrite the ending or change some components.
There is a French only rule in class. The gestures are a good support when a student is trying to convey a thought.  Students may remember the gesture but not the word. In this case, students gesture and the teacher provides the word. Conversely, if a child is at a loss for a word, the teacher can gesture it for the child to say, thereby providing correct structure without interrupting the flow of the thought.  This kinesthetic, oral and visual approach is very effective in addressing different learning styles.  The scaffolded activities and reinforced vocabulary allow every child to be successful in learning this language.
Assessment and Results
Students are assessed in a variety of ways.  As well as ongoing informal assessment, the school has three formal reporting times, followed up with parent-teacher interviews.  The students also have a chance to assess their learning with their parents at our student-led conferences where they take a positive look at their progress, celebrate their advancements and set goals for future improvements.  Suzuki students as a group continue to score higher compared to the provincial averages. It is also important to note that this is only one measure of our students' work among many exciting and enriching learning experiences and skills they display throughout the year.
Musical Excellence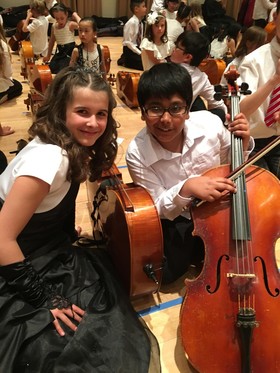 I want to make good citizens. If a child hears fine music from the day of his birth and learns to play it himself, he develops sensitivity, discipline and endurance. He gets a beautiful heart. – Shinichi Suzuki
All Suzuki organizations share the common vision that every child can learn to play a musical instrument and through the medium of music study, we aspire to create a learning community which embraces excellence and nurtures the human spirit. How the philosophy is applied by Suzuki music vendors is as unique as each child. At Suzuki Charter School we extend the vision to offer a unique public education experience including the integration of the Suzuki philosophy to support student mastery.  Based on the philosophy of Dr. Shinichi Suzuki, students, staff, parents and partners work together to create a nurturing learning environment to support musical, academic and personal excellence.
It is not the instrument that matters; it's the method.
You will never regret committing to providing a musical learning experience for your child. Remember the most important choice you can make for your child is not the choice of instrument but, more importantly, the method of instruction. Whether he or she first learns the viola, recorder, cello, double bass, piano, violin, flute, trumpet or guitar is not as important as choosing the Suzuki Method of instruction. The main focus of any beginner Suzuki program is developing the ear. Just as an infant listens to language for many months before trying to say any words, our students listen to music for many months before they play it. While students are actively experiencing the listening process, their teachers are working with you to begin developing the foundation of physical skills to be able to demonstrate their aural understanding. The instrument is just a tool for students to use to demonstrate their understanding of the music. If students really understand the musical language while they master their first instrument, in the future they will be able to pick up any instrument they like because they will have the basic musical foundation that is common to all instruments. That's why the first instrument is not that important; it is the method that is.
Individual Lessons
All students are expected to take individual Suzuki music lessons from a Suzuki music vendor at their expense to support individual growth. Parents are expected to attend every individual lesson and take notes. They become the "home teachers" and are expected to actively participate in their child's practice, reinforcing concepts learned in the lessons.  This home support and supportive communication between the parent and teacher to support student learning is what we call the Suzuki Triangle. 
SCS Group Classes
Students participate in music group classes each week to extend and enrich musical growth in playing skills, ensemble skills, cognitive skills and musicianship, as well as behavioral and organizational skills. Using Suzuki repertoire as the foundation, students study supplementary material in the framework of selected themes ie. Early, Baroque, Classical, Romantic, 20th Century, Jazz or Broadway. Students arrive to SCS group classes without their parents. Therefore, they develop self-efficacy in taking responsibility for instrument care and applying performance skills independently within the group environment. Technology provides the medium for parent engagement as music faculty prepare informative parent communications including annual and term goals, objectives and strategies, practice tips, musical scores, and music recordings. Ongoing assessment is aligned with SCS Music Group Class Standards.  SCS music instructors are lifelong learners. They actively participate in Suzuki training and professional learning community meetings, and develop annual professional growth plans.
Assemblies
Students are given many opportunities to perform throughout the year featuring different instruments in a variety of combinations.  All students are encouraged to wear their blue Suzuki t-shirts on these special assembly days.  Assemblies are scheduled once per month at 9am with the exception of the Beginning of School assembly.  This assembly is on the first day of the school year at 11:00am where our music staff treats us to a wonderful motivating concert inspiring us all with the joy of music-making.  Parents are always warmly welcomed to attend. 
Concerts
Concerts are the culmination of hard work by students, teachers, and parents.  The events should be special and deserving of special attire.  Parents are asked to have the following concert dress wardrobe ready to be worn for special performing venues:
Plain white top
Plain black bottom
Black socks or tights
Black shoes
Personal Excellence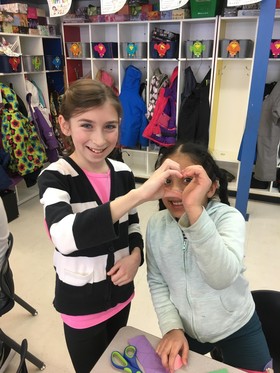 We believe that our students have the right to an education that addresses their individual needs.  We also believe that students share the responsibility to achieve a sound education.  The parents in our community are encouraged to actively share in their child's development by working closely with the child and teacher.  Below we have outlined the responsibilities of the student, teacher and parents.
In order to learn, the student's responsibility is to:
Arrive in class on time, attend regularly, and behave appropriately.
Be ready to listen and learn when class begins.
Make a sincere, concentrated effort to do well in school.
Participate attentively and enthusiastically in all music and academic lessons.
Remain on - task throughout the class.
Hand in assignments on time.
Practise his/her academics and instrument on a daily basis.
In order to ensure a safe, caring school environment the student's responsibility is to:
Respect himself/herself.
Respect all school staff.
Respect all other students.
Respect the opinions, rights and differences of others.
Respect his/her property, school property and property of others.
Contribute positively to the atmosphere of the class and of the school.
Assessment and Achievement
Assessment
Teachers employ a variety of strategies to assess students learning on a continuous basis.
These strategies include: observation of students as they work; conversation with the students about what they are learning; analysis of students products and performances; administration of quizzes and tests. Teachers collect assessment information for two main purposes:  (1) Assessment for learning feedback for students that will help them improve their learning; feedback for teachers that will help them plan upcoming lessons and (2) Assessment of learning information to be compiled into a formal evaluation of each student's achievement, effort and work habits. 
Evaluation
Our balanced assessment includes three formal reporting periods.  Following the first reporting period, students and parents participate in student-led conferences and following the second reporting period, parents can request interviews. It is also important to note that this is only one measure of our students' work among many exciting and enriching learning experiences and skills students display throughout the year.  
Celebration of Learning
During the first term, students have an opportunity to showcase their learning with their parents at our student-led conferences where they take a positive look at their progress, celebrate their advancements and set goals for future improvements.  Celebration of Learning is a special time to showcase student successes. This is your chance to praise, celebrate and make your child feel special for all the amazing work accomplished.  In addition, teachers set up a station within their classrooms during the Celebration of Learning for parent/teacher/student interviews to share your child's strengths and areas for growth.  During this time, parents are invited to share at least 2 stars or positive accomplishment for their children and one wish that they would like their children to strive towards during the next term.  This goal is something that can be done in collaboration with your child's teacher to support your children's success. 
Parent/Teacher Interviews
Teachers are available to meet with parents throughout the year.  In addition, scheduled opportunities are available following reporting periods for each term.  Contact your child's teacher directly to make arrangements.