News
Posted on May. 24, 2019
Do you know families who would enjoy enriched junior high academic, music, and leadership opportunities?  Suzuki Charter School is expanding to offer a Junior High beginning with Gr.7 in the 2020/21…
Posted on May. 24, 2019
SUZUKI STORE    We are pleased to announce the return of  Suzuki Spirit Wear! Go online to the Suzuki Store until November 1 to purchase quality clothing items that allow you or your child to let Suzuki…
Posted on Apr. 25, 2019
Thank you to our families, friends, partners, and local businesses who donated to our Silent Auction. Your contributions support fundraising priorities: educational resources, technology expansion, special…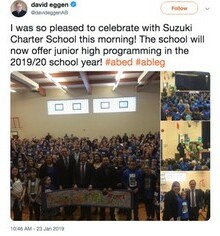 Posted on Jan. 30, 2019
MINISTER OF EDUCATION and MLA for EDMONTON-GOLD BAR CELEBRATE JUNIOR HIGH EXPANSION Please, follow, retweet and like Minister Eggen's twitter post,  Minister Eggen's facebook post and Minister Eggen's…
2018
Posted on Sep. 4, 2018
If you would like to participate in our Pizza Lunch Fundraiser, please use this link to go to the Term II & III ordering site. If you have questions about the program, please contact Mrs. Spencer. If…
Posted on May. 23, 2018
After School Care procedural information and registrations forms for the 2018-2019 school year are now available. Please read the entire form as there are many changes for the 2018-2019 school year. …
Posted on May. 22, 2018
2018-2019 Overview Calendar   2019-2020 Overview Calendar
Posted on Apr. 26, 2018
Suzuki Charter School Society will be holding its Annual General Meeting Thursday, May 17th, 2018. Please use the below link to see all member information and to register your school-aged child(ren)…
Posted on Feb. 5, 2018
We are still accepting Lottery Submission forms for all grades, Kindergarten to Grade Six for the 2018/2019 School Year.  Thank you to everyone who joined us for our Open House on February 1st. The…
Posted on Feb. 4, 2018
We are now accepting Lottery Submission forms for our 2018/2019 Preschool Program. Thank you to everyone who joined us for our Open House on February 1st. The first round of the Lottery has been completed. We…
Posted on Jan. 12, 2018
Use this link to order your Term II & III Pizza Lunch. Registration for Term II and III opens December 1, 2017.    
2017
Posted on Nov. 27, 2017
SCHOOL-WIDE CHRISTMAS ACTIVE CITIZENSHIP INITIATIVE "Comfort & Joy Care Packages" and "Winter Clothing Collection" We are excited to bring forth our Active Citizenship School-Wide Initiative for…
Posted on Sep. 13, 2017
Parents of students currently registered at Suzuki Charter School can use this link to go to the online payment site. 
Posted on Jun. 11, 2017
Place your 2017/18 Blue Suzuki T-shirt order by clicking here.
Posted on Jun. 10, 2017
Click here to download the 2017/18 After School Care Information and Registration Form.