Check out the excitement at Suzuki!
Suzuki Students Rock - CBC Music Class Challenge Finalists Announced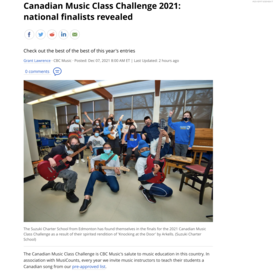 Suzuki Charter School Virtual Spring Concert 2021
Suzuki Charter School's Orange Chamber Performing Country Roads
Staff Message of Encouragement
Virtual Choir - Suzuki 2020
Junior High Musical Masterminds Retreat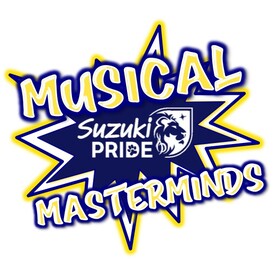 Suzuki Charter School Program Philosophy
Canadian Music Class Challenge
Every fall, CBC Music in association with MusiCounts - the charity of the Juno Awards - launches a contest to engage music classes across the country with Canadian music called the Canadian Music Class Challenge.  There are 3 goals to the project:
To have students learn Canadian music in the classroom
To draw attention to the exceptional work music teachers are
            doing with children across the country.
To reinforce the importance of music in a well-rounded education.
Each year, CBC pre-approves a list of Canadian songs, then asks music teachers to pick one and teach their classes a cover version.  Students then collaborate to adapt, perform, and record their version of the song and submit their class video to CBC.   
"Scars to Your Beautiful" by Alessia Cara performed by the Suzuki Charter School Infinity/Running Spirits Ensemble
"Hang Ups" by Scott Helman performed by the Suzuki Charter School Masterminds Ensemble
"In My Blood" by Shawn Mendes performed by Suzuki Charter School Suzuki Simba Ensemble
"Shine" Canadian Paralympics Theme performed by Suzuki Charter School Ensemble C# and Thunderbolt Ensemble
"Human" by Twin Flames Performed by Suzuki Charter School Suzuki Pride Choir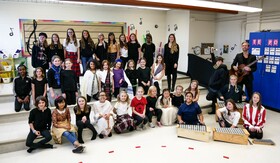 Junior High Music Program Enticer
Junior High Showcase Photo Album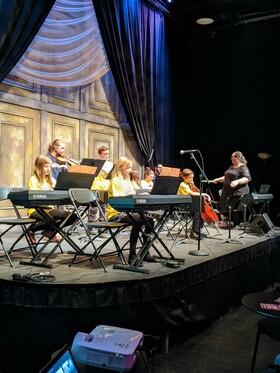 Suzuki Program Epic Video