Back to all posts
Posted on
Suzuki Shines - Active Citizenship Initiative for February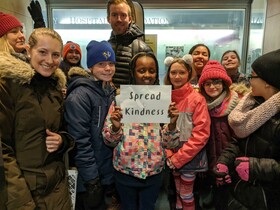 LRT RUN-OUT CONCERT
Suzuki Senior Choir students rode the rails and brightened the morning commute for LRT travellers before stopping to sing at the University of Alberta Health Sciences building and for patients at the U of A Hospital Geriatric ward. Thanks to Mr. and Mrs. Jorgensen, Mrs. Spencer, Mrs. Maharaj, Mrs. Hunter, Mr. Komm and Lisa for supporting our students as they touch hearts and minds with the universal language of music. 
Hear their beautiful song here.  
Click on the link for pictures and video:  Senior Choir LRT Run Out Concert 2020
Committee members, Susan Grant, Lisa Leflar, Asiah Holm, and Karen Spencer, are excited to share Suzuki's Active Citizenship Overview 2019/20 service learning plan, designed to share our Gift of Music and Caring, including opportunities to enrich learning in the school and develop relationships within the community.