Back to all posts
Posted on
MINISTER OF EDUCATION and MLA for EDMONTON-GOLD BAR CELEBRATE JUNIOR HIGH EXPANSION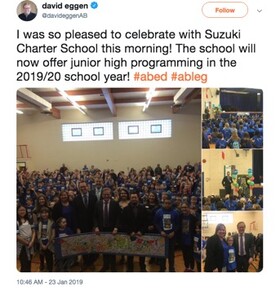 MINISTER OF EDUCATION and MLA for EDMONTON-GOLD BAR CELEBRATE JUNIOR HIGH EXPANSION
Minister of Education, the Honourable Mr. David Eggen, visited Suzuki Charter School on January 23 to celebrate the expansion of Suzuki Charter School to Junior High.   
"The talent of the students at Suzuki Charter School is truly impressive. Providing children with the opportunity to learn through music and play a musical instrument has so many educational benefits. The success of this school demonstrates how music can contribute to overall student achievement. I'm looking forward to seeing the school grow to accommodate junior high students, and provide more opportunities for children and their parents to choose the educational opportunity that is right for them." - David Eggen, Minister of Education
He was joined by MLA for Edmonton-Gold Bar, the Honourable Mr. Marlin Schmidt.
"Suzuki school is a great example of the many options parents and their children have for education in Alberta. Our government's priority has always been to provide students with an education that will prepare them for a successful future, and Suzuki School is doing just that. Now even more children will get the chance to experience this school, and I think that's wonderful for the students and our community." - Marlin Schmidt, MLA, Edmonton-Goldbar
Sharing his appreciation for the strong and visionary work of Minister Eggen, Minister Schmidt, Senior Admin, School Admin, staff, students and parents, Suzuki Charter School Board Chairperson, Boris Vidal stated:
"Suzuki Charter School has consistently shown that our students, with their musically enriched education, are strong performers both musically and academically. With our new expansion into Junior High our students can continue their success and become better citizens of our community." - Boris Vidal, Suzuki Charter School Board Chairperson
The celebration follows Minister Eggen's approval of a proposal for Junior High Expansion submitted by the Suzuki Charter School Board of Directors that came out of the strategic planning initiative.
Minister Eggen warmly visited with students, staff, and Board members before settling in to enjoy a beautiful program hosted by Gr. 1 and Gr. 6 student leaders, and featuring moving performances by piano, flute and recorder groups led by Tim Eckert and Ceci Taher, Senior Choir conducted by Asiah Holm, Division 2 Ensemble led by Caitlin Laslop, and Division 1 Musical Theatre led by Asiah Holm and Lisa Leflar.  We were thrilled to hear such passionate greetings as each speaker shared moving words about the power of music education, innovative teaching and learning, the importance of strong community, and the appreciation for the strong teamwork to achieve the dream of Junior High Expansion and reimagine our future. At the end of the assembly, students presented Minister Eggen with a thank you banner that all students were able to sign and Tannis Klassen took some great photos to document the historic event.   
Thank you to our hard-working board members, senior administration, school administration, staff, students, and parents for sharing your gifts of time, caring, passion, and music to make such a wonderful event come to life.